In the
Power Affiliates of the year issue of EGR Digital Marketing
, FourCubed was named among five of the industry's Super Affiliates. FourCubed receives accolades for Your Poker Cash, Poker Affiliate Listings, and its database of over 9800 registered affiliates and more than one million poker players.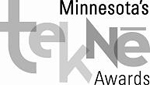 Fourcubed was named as a finalist by the Minnesota High Tech Association (MHTA) in the Innovative Collaboration category for the 2012 Tekne Awards. FourCubed, selected as the technology / web design partner for
www.Unitedway211.org
, collaborated with the United Way and Ceridian to provide online access to the same vast network of human services providers as the United Way supported 211 call center. Through a self-serve web search application, United Way 211 searches a database of over 80,000 partner services across Minnesota.